I know... it's just August...  but I've been seeing Halloween all over Blogland already!  Lots of excited Halloween lovers are ready to start celebrating; tons of swaps and parties being planned. 
I've already received my first Halloween gift of this year!  
"Bewitching" ATC from Tee at The Altered Paper .  (Thank you, Tee!)
Tee is hosting a Halloween ATC Swap; sign up is still open,
so stop by and join the fun!
Wendy at Bliss Angels is hosting a Halloween Tin Swap (this will be my first tin - can't wait!).  You still have time to sign up for this fun swap!
JoAnne at Vintage Dragonfly is having a Halloween altered matchbox swap; we're also including four handmade Halloween items with our box.... such fun!
Heather at Speckled Egg is hosting another of her petite inspiration box swaps, this one with the theme "curiosities", which can include Halloween and other curious, unique items.  Sign-ups are open!
I've spent quite a bit of time in the Sunshine Room this weekend, working on my swap items.  Tried my hand at altered dominoes and have to admit that it's much more fun than I anticipated...  I especially enjoyed the inking of the domino process; watching the colors blend to create really unique hues.  I now want to make domino books...
Oops!  Forgot to mention one other fun party I've signed up for!  
The 2nd Annual Practical Magic blog party, being hosted by Frosted Petunias.  I participated last year and had a blast!  Have you seen the movie?  If not, you've been missing out on a classic; lots to see in terms of decor and fun, great story line and a fantastic cast of characters.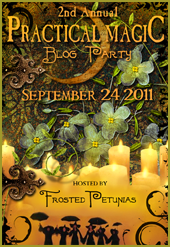 Here's what I created for the event last year...  magic wands featuring two of the film's main characters:  sisters Gillian and Sally.

Ok...I think I'm done (for now).
Happy Sunday; I hope you are enjoying your weekend.
 (My last official "summer" weekend, as I start school next week.)